LAI Retooled Its Manufacturing Equipment to Quickly Produce the Much-Needed PPE
Westminster, Maryland, April 24, 2020 – LAI International, a global leader in advanced manufacturing technology for the aerospace, defense, medical, and industrial sectors has manufactured and delivered medical face shields to Baltimore area hospitals and private medical practices.
LAI worked with a local Ear, Nose and Throat physician in Maryland, Dr. Alan H. Shikani, who is the Chief of Otolaryngology-Head and Neck Surgery at MedStar Union Memorial Hospital and LifeBridge Sinai Hospital and founder of The Airway Company, to develop the clinically tested reusable face shield. The LAI team was able to design, retool manufacturing equipment, complete R&D, and conduct clinical trials to deliver 1500 shields to seven hospitals and medical centers in less than two weeks.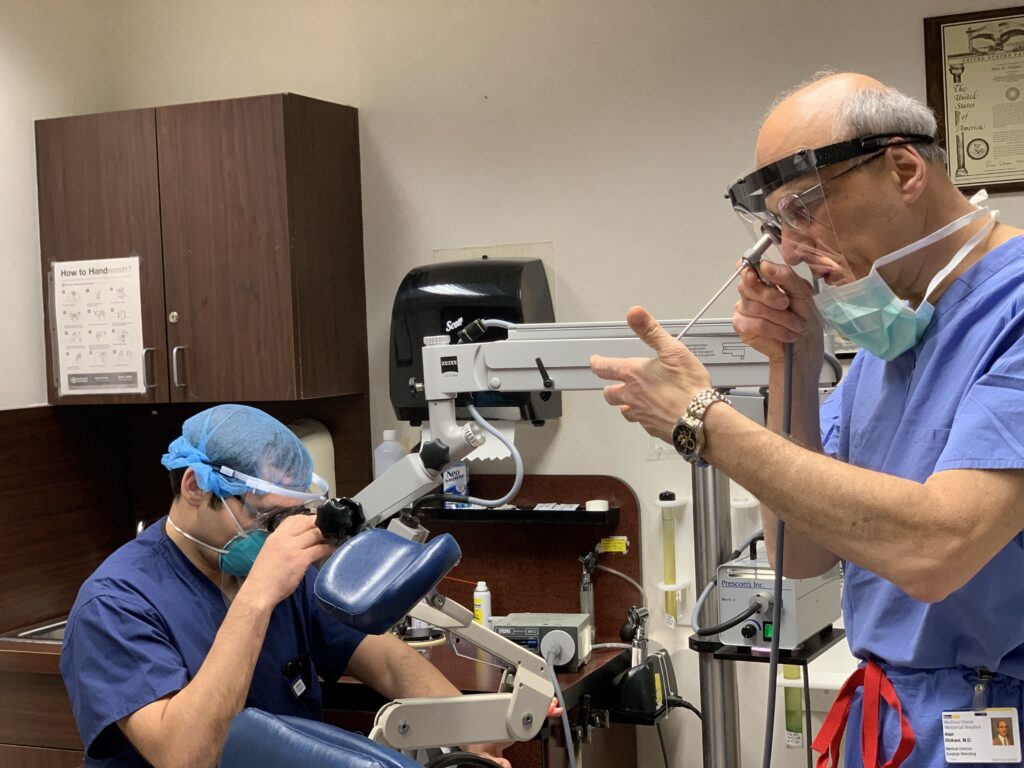 Dr. Abraham Gol and Dr. Alan H. Shikani of MedStar Union Memorial and LifeBridge Sinai Hospitals evaluate the face shields.
"Solving complex problems is what LAI does day after day, so it was natural for our engineering team to produce a product that's reusable and light weight," said LAI's CEO Marlon Johnson. "The fantastic associates at LAI were able to leverage our waterjet and laser technology to help provide an impactful resolution to the men and woman that are helping us fight COVID-19."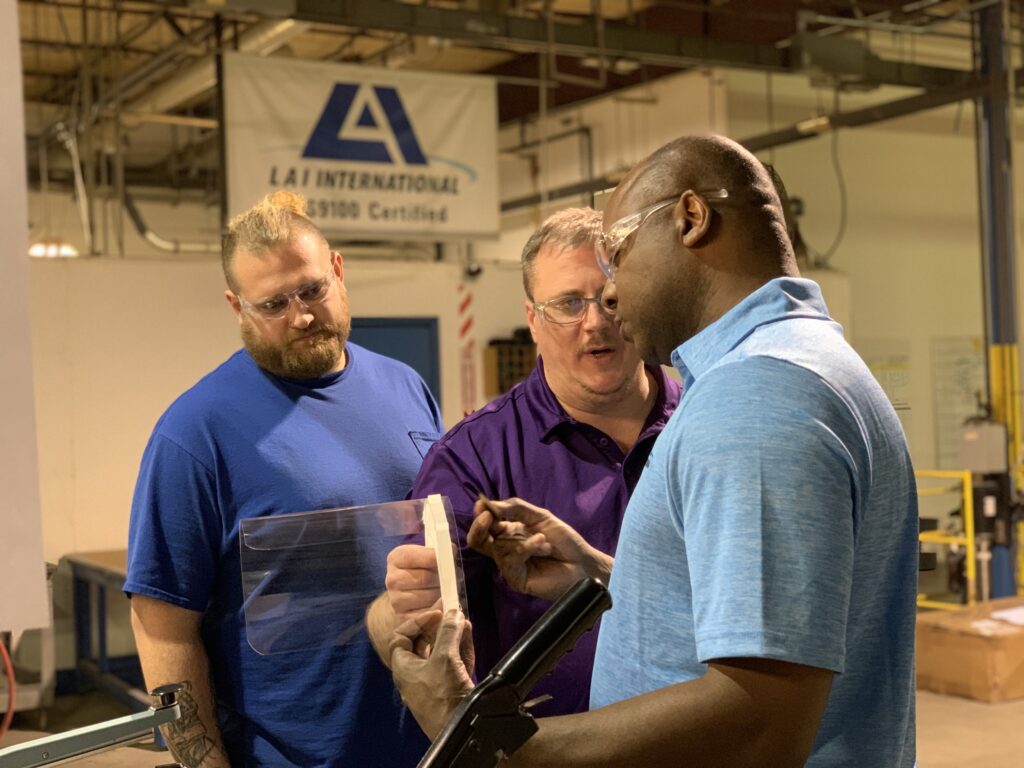 Kyle Duble, Forrest Rosenbloom, and Marlon Johnson of LAI inspect a face shield assembly
With the surge of COVID-19 patients, hospitals across the country have been experiencing a dangerous shortage of personal protective equipment (PPEs) for healthcare workers such as face shields, masks, gowns, and gloves. Dr. Shikani partnered with LAI and the Airway Company in order to design an optimal face shield that would protect health care providers who are potentially exposed to the coronavirus. "LAI International is proud to help support our local communities. The health and safety of our employees and their families is our number one priority," said Mr. Johnson. "We worked hand in hand with Shannon Van Deren, President of Layered Manufacturing, to retool our aerospace and defense facility to produce face shields. It was no easy task, and our team stand ready to assist our country in any way it can."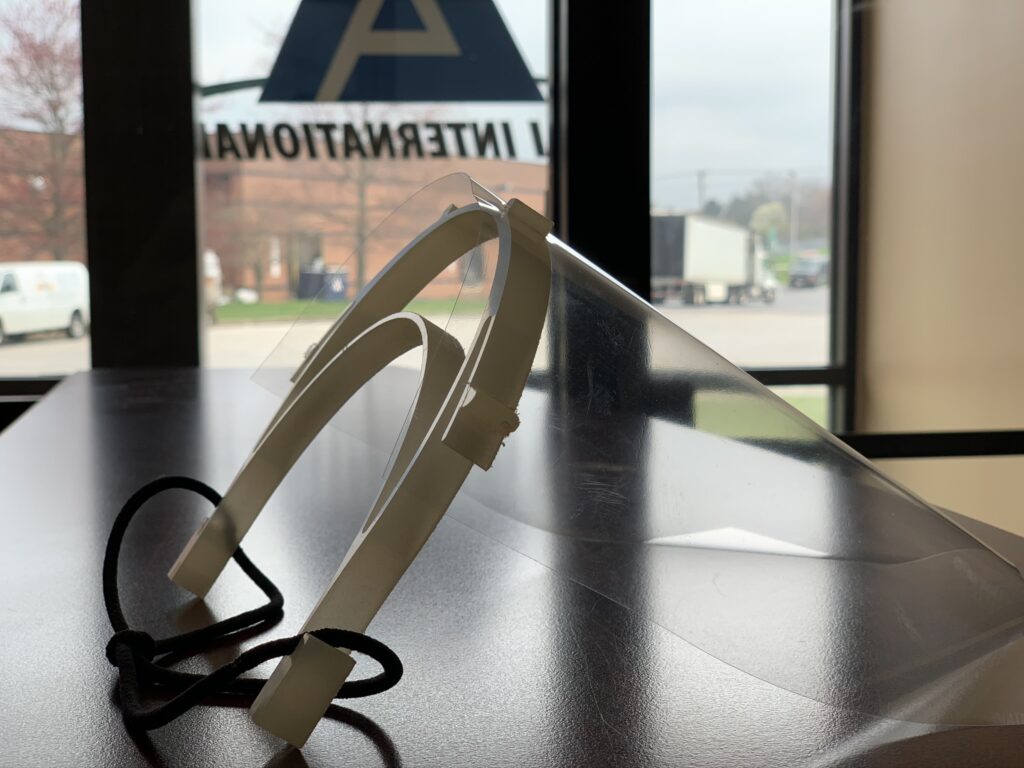 Reusable medical face shields
"We greatly appreciate this timely donation as we continue to have supply chain concerns regarding personal protection. This gear is a big help in protecting our team," said Dr. Dave Eisele, Professor of Otolaryngology – Head and Neck Surgery at the Johns Hopkins Medical Institutions.
The face shields were delivered to Medstar Union Memorial, Good Samaritan, and Georgetown Hospitals; LifeBridge Health Sinai and Carroll Hospitals; Johns Hopkins University Medical Institutions; and University of Maryland Medical Institutions.
Donna Clare, Director of Development, Orthopaedic Surgery and Otolaryngology – Head and Neck Surgery at Johns Hopkins Medicine commented, "Your donation no doubt will save lives – of our healthcare colleagues."
About LAI International
LAI International is premier provider of highly-engineered, mission-critical components since 1979, and is renowned for our cutting-edge precision component manufacturing and solutions. LAI is AS9100 Rev D certified and meets our customers' production goals by delivering high quality complex components for the aerospace, defense, and medical industries on time, every time, at the right value. For more information, please visit https://www.laico.com.
About The Airway Company Inc.
The Airway Company is dedicated to designing innovative products for tracheotomy patients, in order to make speech attainable, make breathing easier, restore pulmonary health, and improve the tracheotomy patient's quality of life. For more information, please visit https://www.theairwaycompany.com/.
About Layered Manufacturing and Consulting
Layered Manufacturing and Consulting offers consulting, and project management, services in the Additive Manufacturing space for varying markets including automotive, aerospace, medical, and more. For more information, please visit https://www.layeredmanufacturingandconsulting.com/.